What is
MyMDT is a Dapp based on Ethereum that allows users to get rewarded for sharing anonymous data points. It's the user-oriented portal in the MDT ecosystem.

Users now can join the MDT ecosystem through the MyMDT Dapp. Currently MyMDT supports three features: 1, Allows users to opt in the MDT ecosystem to share anonymous data points for MDT rewards 2, Allocate and deposit the MDT rewards for users 3, Allow users to earn more rewards by finishing specific tasks.

Apart from the main feature of allowing users to opt in and share anonymous data points, in this version users can also earn rewards by finishing tasks. These tasks are often tailored made for the third-party applications that embeds MyMDT so that users can get more familiar with both the MyMDT dapp and the ecosystem of the third-party application.

The MyMDT Dapp will first be seen in the following apps: MailTime, Magic Crystal and Email Messenger. All the above apps are first group of adopters of the MDT ecosystem that collect anonymous and aggregated transactional email data points.

Now after user downloads the MailTime app (or any of the three apps that adopt the MDT ecosystem), and login their email accounts, they can start the data sharing and rewards while using the app at the same time. In the future, when more third-party applications adopt the MDT ecosystem, MyMDT will be seen in those apps as a new feature as well.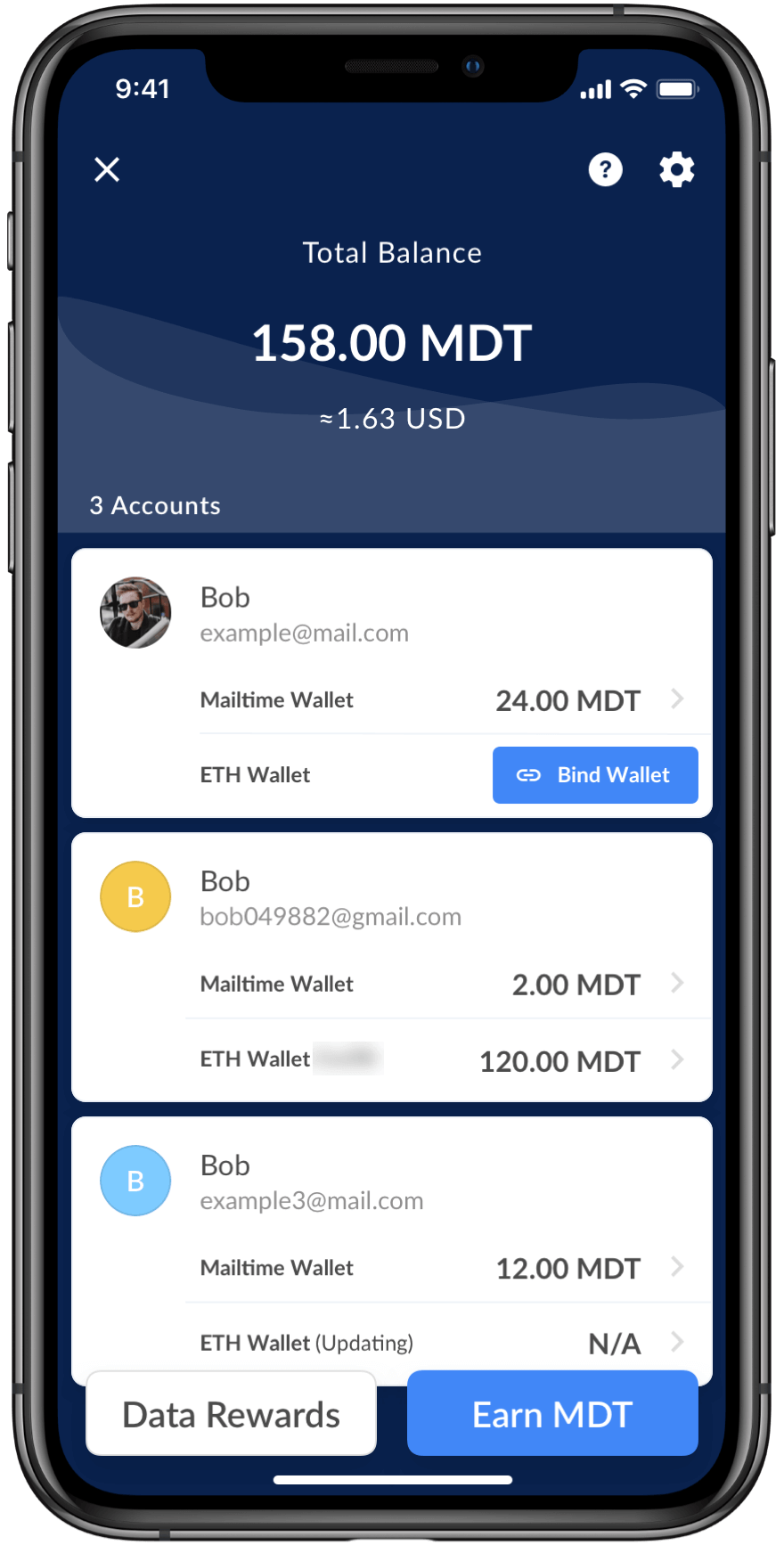 ---
How to Use
Welcome to MyMDT! Make your data work for you!
Download one of following the third-party apps that adopts the MDT ecocsystem: MailTime, Magic Crystal, or Email Messenger.
Open the app and login your email accounts.
Find the "Rewards" button from the left bottom of the main menu page.
If it's your first time using the MyMDT, please read the Terms of Use carefully and then click "Import Account" to get started.
All set!
---
Earn Rewards from Data Sharing
If you opt-in to share your anonymous data points in MyMDT, you will be rewarded for any invoked data points in the ecosystem when that happens. Check your data sharing rewards from the "Data Rewards" button.
---
Data Type
Currently the ecosystem rewards specific data type of transactional email receipts as follows: In-app-purchase receipts, paid app receipts, subscription receipts from Apple's App Store, Email receipts from Uber, Grab, Lyft or Gojek.

---
Claim Rewards
Please make sure that you have bound your ETH wallet address before you claim any rewards.
Enter "Rewards" from MyMDT.
Click on the Settings button from the top right corner.
Click on the account you want to bind an ETH wallet address.
Click the button "Bind Wallet" below.
Enter your correct ETH wallet address and submit.
*You can change your ETH wallet address in the future, but it might take some time. Note that when a change request is being processed, you can not claim any rewards.
Currently we support the following wallet applications to withdraw your data wallet rewards: Trust, MetaMask Mobile and imToken.
---